Gegege No Kitaro vf Season 1 Episode 29
#Note: if the VIP server don\'t work. switch to Openload server.
#Note: si le serveur VIP ne fonctionne pas. basculer vers le serveur Openload.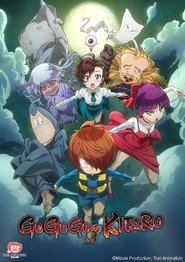 Gegege No Kitaro vf Season 1 Episode 29
Gegege No Kitaro vf Season  1   Episode 29   Pour parasiter une époque obnubilée par la modernité, rien de tel qu'un dépoussiérage des vieux mythes et Légendes. Voila comment, Kitaro le repoussant, petit fantôme désabusé par la nature humaine, a conquis une société japonaise noyée dans la lumière. Dans chacune des histoires courte de cette épopée culte, l'embarras des hommes à décrypter le monde y éclate, la réalité se joue de leur ignorance comme de leur arrogance par l'entremise des yokaïs, ce petits êtres de fantasmes et de mystères qui habitent en toutes choses et qui sont si chers au folklore japonais….
Air Date: 2018-04-01
Year: 2018